When market conditions take a downturn, the urge to reduce budgets can seem advantageous, however, it is absolutely necessary to make well thought out decisions when assessing marketing expenses.
It is just as important to look ahead and forecast wisely rather than picking at whatever can be quickly trimmed in the moment. Connecting the dots between present management and future success must come first; this cannot be compromised with concessions solely based on interest savings or short-term gains.
A close examination of value proposition economics should inform each investment decision made, ensuring cost efficacy without depleting quality. Collectively, these manoeuvres allow for greater resilience during trying times and absolute diminishment of risks come what may down the road.
In the past, marketing departments may have been an area of focus for cost-cutting in challenging times; however, now it is widely recognised as a key component to success within businesses. This may often be a tactic to stay afloat during downturns, but it is a misconception that could result in your competitors gaining advantage in the future.
Investing in your brand during difficult periods can help strengthen and shape long-term results, making sure that you are well prepared when potential growth opportunities arise.
This may be an innate reaction that has some rationale behind it, as this practice has been conducted for a long time. Studies found that during a recession it was reported that those who continued to advertise during a downturn saw sales increase by 256% more so than their counterparts after the financial decline had ended.
Businesses are more likely to recover if their budget is maintained. Rather than responding in the same manner as other businesses, you have the chance to stand out amongst the crowd. [1]
An example of advertising during a depression in the 1920s: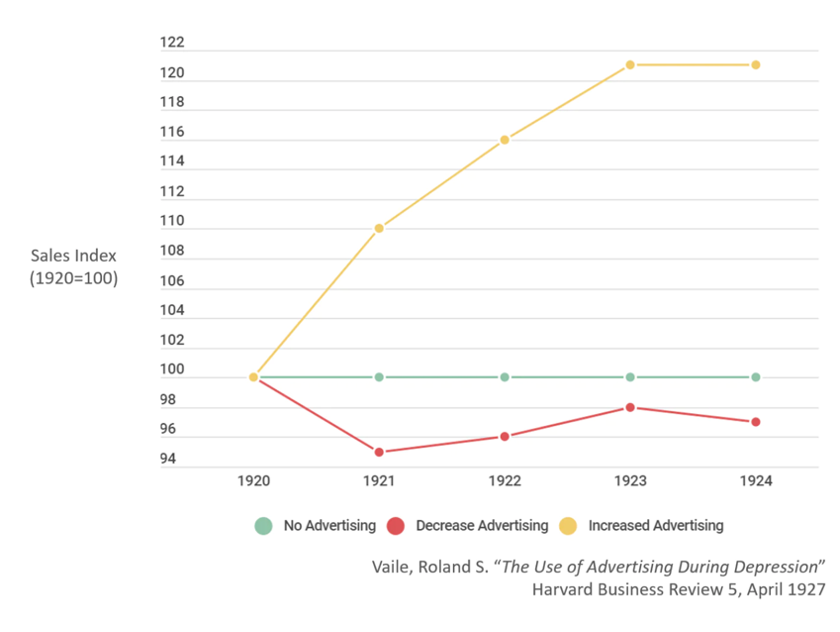 As a brand, you can take full advantage of this unique opportunity to make your brand stand out and take full control of how you reach potential customers; however, there is a boundary that you must recognise in order for this strategy to work well.
During the height of the pandemic, a disinfectant brand [2] was widely critiqued for their ill-timing in advertising amidst an emotionally charged situation. The result of this mistake meant that they were perceived as being out-of-touch with people's lived experiences during uncertain times and labelled as insensitive.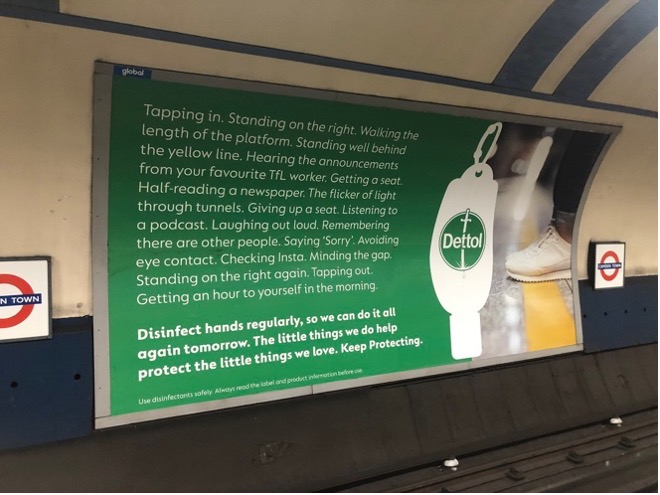 Despite the immense pressure their marketing team faced to keep sales afloat during a difficult economic period, they still made an unfortunate misstep in their strategy's execution that ended up costing them greatly. This undeniable reality of an economic downturn requires marketers to have the right balance between meeting their organisation's projected net income and also being sensitive to current conditions.
In 2023, the marketing outlook is unique in that it presents an unprecedented situation for strategists, creating extra complexities when considering how to create a successful plan of action. Investing time and resources into appropriate measures will be essential if marketers are aiming to make a significant impact during this challenging moment in history.
Creating marketing campaigns that are personable, communicate well amongst your audience, stand for something significant, and if you promote complex and expensive services, make sure they focus on value and durability as to not appear tone deaf.
Organic and paid channels
Paid advertising does not have to be your sole focus, it is also important to explore other channels to promote your brand. Leveraging traditional methods can help you further your brands reach in a cost-effective way while providing strategic long-term value.
Using a mix of paid, earned, shared and owned channels, also known at the PESO model [3] can be an effective way to promote your brand: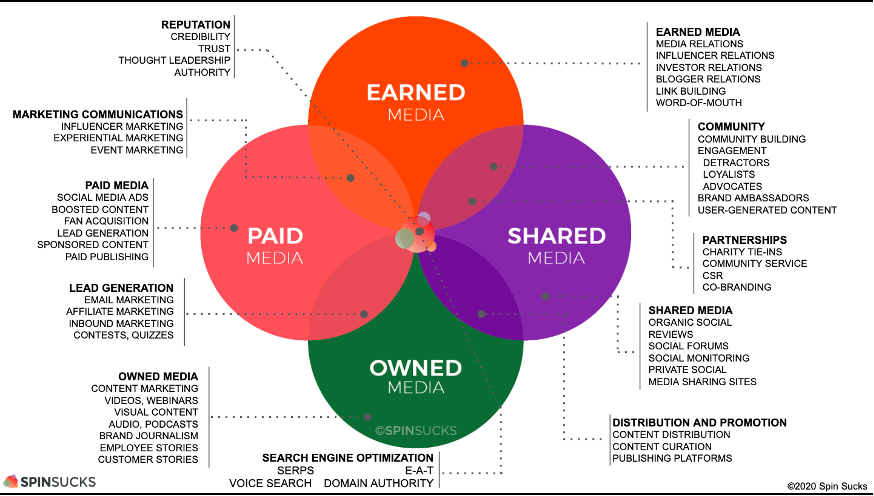 • Paid media
Paid marketing channels are an excellent way to get your message out quickly and reach a wider audience, although at the cost of additional resources. Alternatively, for those who prefer a tailored approach with highly targeted messaging that is both personalised and well-targeted, these same paid channels can also provide valuable opportunities.
• Earned media
Utilising organic channels, also known as earned media, such as social media posts and blog articles, is a great way to authentically promote your brand over time. This can lead to meaningful engagement in the long-term, regardless of whether you pay for it directly or not and making use of these tools requires some patience at times but can be lucrative when done correctly.
• Shared media
Leveraging shared media can be a powerful way to engage with potential customers and promote your brand. When others share content related to your business, their peers become more likely to trust it and create an organic endorsement for the services you provide. Whether through influencer marketing or word-of-mouth referrals, taking advantage of user generated content is a strategy for engaging new audiences in meaningful ways.
• Owned media
Owned channels are an invaluable way to make meaningful connections with potential customers and establish yourself as a reliable brand in the long-term. These include anything from business websites, email newsletters and social media accounts which is all under direct control for maximum impact.
By leveraging this advantageous opportunity, your brand has the power to set itself apart and direct its outreach directly to prospective customers. It is critical, however, that you understand where the boundaries are in order for such a strategy to succeed. It can be tempting to drastically cut spending on marketing and advertising, but data shows that in the future it can keep your brand going after a downturn.
Only spend as much as you can afford and do what you feel is right for your unique situation. You can also increase the standard of your content by using a mix of organic channels as well as paid.
Read our full report on the Top 2023 Marketing trends where you can find tips and advice to prepare your brand for substantial growth.