A data-driven approach to audience-centric marketing
One of the most common problems I've seen with marketing campaigns that don't deliver is where the team have selected the channel or distribution route before you've considered the audience. This model tries to address that by looking at putting data and insight well before you even consider the channels.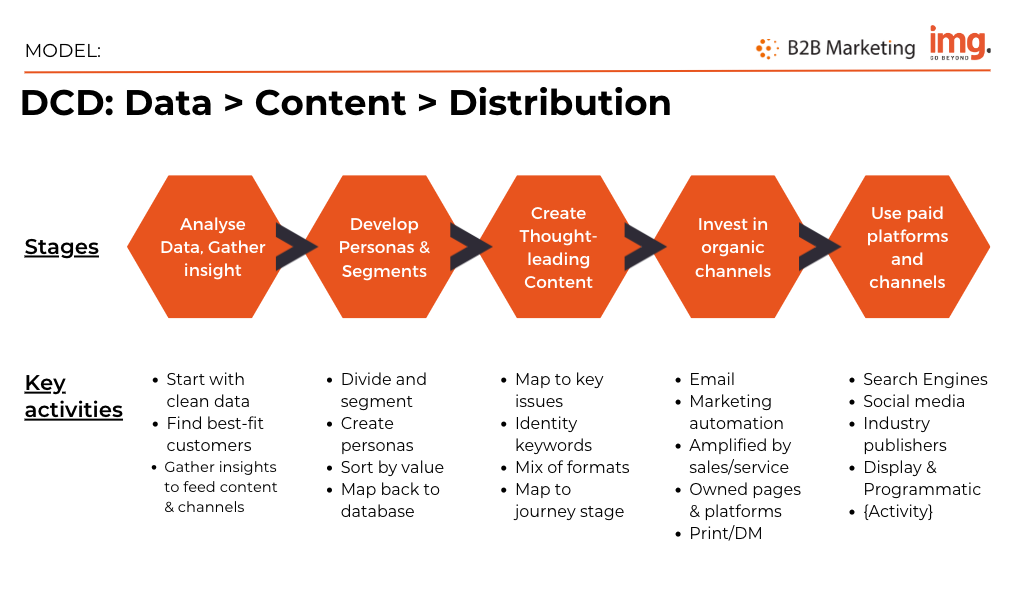 Once you've selected data properly, you should be able to better understand that audience ideally, you've sliced them, segmented them and or create personas and by nature of that gathered insight on them.
What is it you know about those people or sets of people within your target organisations? That means you can talk differently to them.
After you've gathered that insight it gives you a chance to then create that content. Now, not all content is the same, so understanding the audience, the content (by nature of the format that you should create, the language you should use, and even the stage of the journey that that content might be best for) is a vital ingredient campaign.
When we've got the audience and content nailed, then we can start to talk about the channels. More and more in the last few years, we've had the dilemma verse of paid versus organic. It makes utter sense to use both but always consider organic first and what are your first-party routes to market that you already own.
Yes, of course, there are costs sunk into the technology that might allow you to send an email out or make a phone call, but paid marketing will have a greater cost per action that's above and beyond organic.
Now I think we're trading both off because organic marketing may not get you everybody, particularly if you're looking at prospecting campaigns, but certainly start with organic and trying then not only to minimise spending on paid media but learn with organic as to what's working, and then you can be more targeted with your paid.
When it comes to paid media, look at the platforms and channels that you might want to use.
Go back right to the start – the data work that gives insight into who that audience is. Well, that should give us a pretty good clue as to where they might hang out where they might be found online or otherwise. And therefore, you can match those platforms and channels to that behaviour and to that part of the world they may be found.
Remember, of course with paid media, it gives you immediate access, but it's got an immediate cost. So over time look to think about how you may use paid as a short-term part of the programme and give organic, particularly through areas such as search marketing and SEO, the chance to embed and give you longer-term visibility.
The disadvantage of paid is of course, as soon as you stop that campaign, you've lost all visibility. That means trying to marry the two together, paid and organic, makes total sense.
But make sure you've done the data work first to gather the insight that helps you slice, dice and create segments and personas to then create relevant content to put out through those channels.