Embracing technology in marketing: Mastering adoption
Integrating Technology into your marketing strategy
Technology has become an essential task of marketing operations. As a result, Marketing Operations (MOps) must be proactive in adopting new technologies to remain competitive in the industry.
In this blog post, we'll explore six of the best practices for technology adoption within a marketing department.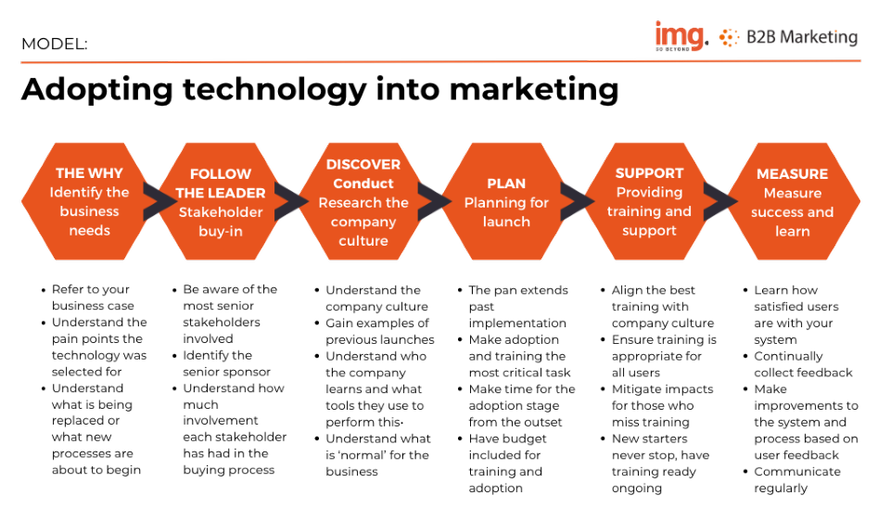 1. Identify Business Needs
When you selected the technology, there would (or should) have been a detailed requirement-gathering exercise. This would have told the business why you need a technical solution, what the pain points were and the problems it was going to solve.
Referring back to this document will allow you to understand where your solutions will impact your audience and make them want to sit up and listen to the proposed solution that is coming to help.
2. Get Buy-In from Stakeholders
Like it or not, most employees will be influenced by the opinion of their leaders, so use this behaviour to gain traction with your system adoption.
Take time to understand who the senior sponsors and stakeholders are and how involved they will be with the system. Spend some time educating and training them first and they will assist in creating a positive buzz for their teams.
3. Conduct Research
There is no one 'best way' to adopt technology. Every company has a different culture and acceptance of learning. For some, that could be in companywide, in-person announcements from the boss. For others, it might be compulsory digital learning.
Whatever the company is used to is the least path of resistance to reach the audience. So spend some time learning what has come before and use that as your foundation.
4. Plan for Post Implementation
Implementing technology does not stop the day the system goes live. Adoption is the reason almost half of all technical implementation goes wrong. So from the outset, make time for adoption and training in the plan and be thinking about it way before the launch date.
Ensure there is budget associated and time allowed for adoption to be a success. Make sure the business and the sponsors are aware of how critical this stage is.
5. Provide Training and Support
Coupled with your research on how the company culture influences learning, ensure you have quality training materials to deliver. Don't cut corners on learning assets and don't forget that training and learning never stops.
There will be new starters who will need your training for the system so make sure there is a route to get it long after the system is implemented.
6. Measure Success
If your new system isn't adopted successfully, people will return to their old ways, run both alongside each other and you'll see your technology gain a bad name. Eventually being removed or replaced.
It is NEVER the technologies' fault. Gather feedback from users regularly. Make changes that frustrate them to continually make their lives easier.
The tech will not solve a user problem, the process around it and the actions of the administrators will. Plus, having a happy user base will enable you to demonstrate just how successful the system was and prevent those awkward license renewal conversations at budget time each year.
The bottom line? Embracing technology in your marketing strategy can elevate your operations and help you stay ahead in a competitive landscape.