How the Grand Canyon and a mercurial copywriter from the 1960s changed the way we think about response marketing
There's rightly lots of debate and discussion around the use of emotion in modern B2B marketing right now. For many (in and outside the marketing department) it seems too woolly or fluffy a subject and not in keeping with the professional, formal edge of the modern business world.
But for me it is entirely appropriate, maybe even essential, and now plays a large part in the creative process we go through with any work in my day job. Be that the selection of channel, language and tone, or the call-to-action type.
But this recent media talk was not what swayed my view, it was a lesser-known mad man from the 1950s that did it.
Howard Luck Gossage and his tiny agency was a contemporary of the likes of Ogilvy & Mather and Doyle Dane Bernbach.
But rather than tear up the mean streets of Madison Avenue, Gossage built his career and legacy in the more bohemian (and woolly and fluffy) streets of San Francisco.
A much lesser-known name from that era he was an enormous influence on the whole industry, as much now as back then. Arguably he invented social media in advertising through his use of brilliantly crafted copy for magazine ads (the only real alternative to the juggernaut that was TV back then) and the introduction of reply coupons.
But for me it was his act of saving the Grand Canyon in 1966 that best illustrates the value of emotion in marketing.
In the early 1960s he was approached by David Brower, the founder of the small environmental lobby group The Sierra Club. Brower had not initially approached him for his copywriting prowess but simply to lend The Sierra Club a designer to illustrate an ad he was planning to run. This was an ad designed to help raise public awareness of the impending damming and flooding of a huge section of the Grand Canyon.
But in his own inimitable way, Gossage helped Brower to understand that simply raising awareness of the situation (and provoking an emotional reaction) was not enough. In fact, worse than that, it would alienate his campaign from the very public he had initially connected with. Chiefly because it would leave the reader with a sense of guilt that they knew the flooding to be a bad thing, but they would also feel helpless to be able to stop it and may even tune out from such news to avoid the negative feeling.
Gossage knew that not only must the Sierra Club raise an emotion, but they must also offer the public a way to feel that they could help: a relevant and easy-to-achieve way to do their bit.
That incredible insight led to a mobilisation of the public to help support this tiny lobby group and eventually overturn the US government decision. This approach of not just raising an emotion but giving a relevant and achievable subsequent action went on to inspire the modern environmental movement that we know today, and associate with the placards and stickers from the everyman congregations it so cleverly utilises (Brower himself went on to found Friends of the Earth).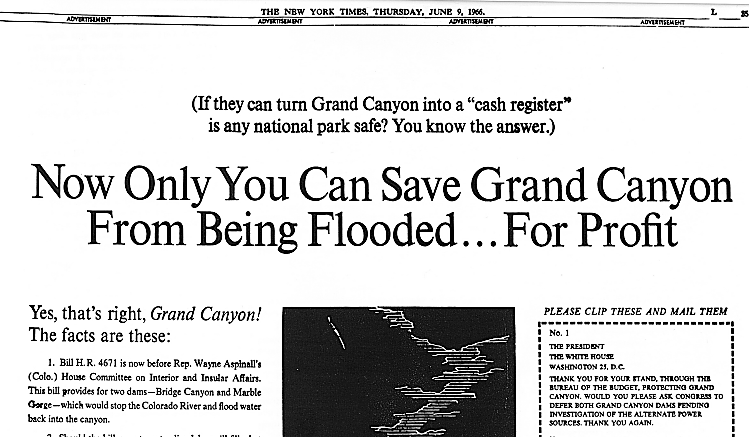 This is the cornerstone for the thread of this post; showing how as marketers and advertisers we must not simply raise an emotional response (although that alone is far greater than not) but we must also signpost a clear ETA (Emotion to Action) to help our audience understand what to do next.
And for me that is key as to where emotion should be used in today's business world. Firstly, we have to remember that the very audience we are seeking to connect with are humans just like you and I. Not far beneath the veneer of the modern business world is the softer reality that they, like us, have hopes, fears, desires, dreams and nightmares, and neglecting that fundamental truth is hamstringing your marketing and wasting their time.
There is a second equally powerful reason as to why an ETA is so vital to your marketing and advertising – it is to help drive quantifiable result or return.
Not only does an ETA help signpost what your audience should do next after provoking that emotion (which could play to one of those fears or dreams that we all have as humans) but it helps tangibly measure the impact. This is not just good campaign sense, but vital for today's marketer who is scrutinised at every turn to prove return on effort and investment.
By not only offering messaging that plays to their emotional needs, you are also giving them a next step, a way to carry on the engagement that not only helps them (remember that a lot of business decisions are based on whether it will make them look good and/or protect their ass) but gives you clear reporting on far more than just brand engagement.
Read more on Howard Luck Gossage via the excellent "Changing the world is the only fit work for a grown man" by Steve Harrison.