Budget Allocation in Martech
In the world of B2B marketing, it is important to make sure your Marketing Technology (Martech) budget is allocated wisely.
With 63% of CMOs planning to increase their Martech budget in 2023 [1], it is more important than ever to have a clear and effective plan to make the most of your investments.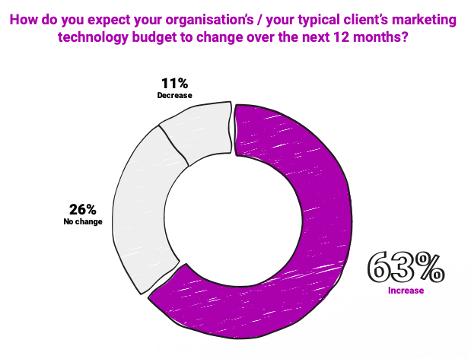 When it comes to allocating your Martech budget, you can think of it like searching for a treasure chest. Your goal is to find the most valuable tools and tech to help you achieve your marketing objectives, but just like a chest, if you take too much you may end up feeling weighed down and unable to progress.
As Martech continues to gain traction and secure bigger portions of the marketing budget, marketers are intelligently allocating funds to optimise their Martech stacks. By creating a plan and allocating funds to the most essential tools and technologies, you will be able to carry the chest and make the most of your investments.
5 steps to take when planning your budget:
1. Set clear marketing goals
The first step is to set goals. It can be easy to suffer from shiny object syndrome when setting goas, so you need to remain focused on understanding what it is you want to achieve with your marketing efforts. This can help you identify the most relevant and useful technology for your business rather than chasing the shiniest thing.
2. Assess your current stack
Simply take a step back and evaluate what you currently have in place. Ask yourself a few questions. Is the tech you currently have necessary? Is it being fully utilised? From there you can identify areas in which you are wasting resources needlessly and help plan your spending.
3. Research new and emerging tech
The Martech landscape
grows more exponentially every year and it is predicted to be a 'chaotic year' [2] in terms of its growth in 2023. Keep up with the latest innovations so you have an edge over your competitors. However, you should approach these new technologies with a critical eye and research them thoroughly.
4. Prioritise what you need
Once you have identified which solutions best fit your goals, you should be able to prioritise them based on how essential they are for your business. Are they efficient? Scalable? Do they give you a competitive advantage? Is it within your budget? Again, you may want to try everything exciting that catches your eye but keep your desired outcome in mind to make an informed decision.
5. Continuously evaluate and optimise
The final step is like being a chef who is constantly experimenting with new ingredients and adjusting their recipe to create the perfect dish. Reviewing and adjusting your Martech stack is much the same. Measure and track your metrics, identify areas for improvement, stay on top of trends and continue testing.
Here are a few tips:
• Start Small
It pays to start small and build up over time and depending on your budget constraints, this may mean making incremental investments in different aspects of your Martech stack rather than investing large sums at once.
• Be realistic
Remind yourself of the size of your organisation, your marketing budget and the impact this solution will have on it. You can avoid spreading your budget too thin across a large number of solutions by instead fully investing in just a few.
• Consider scalability
Invest in Martech that grows alongside your business to save you from any costly investments in the future.
• Look for integrations
Look for tech that can easily be integrated with your current tech stack and with each other. This way you can get the most out of your investments by leveraging their full capabilities.
• Don't be afraid to experiment
It is also wise to "test drive" different solutions before committing long-term as this will give you a better idea of what works best for you and your team.
• Take a data-driven approach
Use data to inform your budget allocation by tracking metrics such as ROI, customer engagement and conversion rates to see which is delivering best results.
No matter what type of solution you are looking for, it pays to do plenty of research before investing in any particular product or service. Read reviews from other users, compare features between different solutions and consider potential scalability if growth is part of your plan. Taking the time upfront will help ensure that you find the right solution at the right price for your business.
Following these steps and tips can put you on the path to making smarter decisions when it comes to investing in Martech for successful marketing outcomes, just like a pirate finding the most valuable treasure from the chest.
Top marketing trends for 2023:
Which marketing trends are going to be popular in 2023?
Download the guide