Centralisation adoption model
How to create a successful centralisation adoption strategy that fits your business and transformation programme.
The key to the success in any transformation is adoption within the business. Regardless of plans, processes or technical solutions, programmes of change often fail due to poor adoption within an organisation.
As a critical element of transformation, adoption is bespoke to all organisations and should be tailored for maximum impact and have key success criteria defined.
Without a quality adoption strategy in place, change can be rejected by the business leading to removal of a programme or, can lead to adoption limbo where some areas of the business accept and others are unhappy or remain wedded to the old process.
We recommend a review of your transformation and bespoke adoption proposal, but here are some areas to consider to ensure maximum success.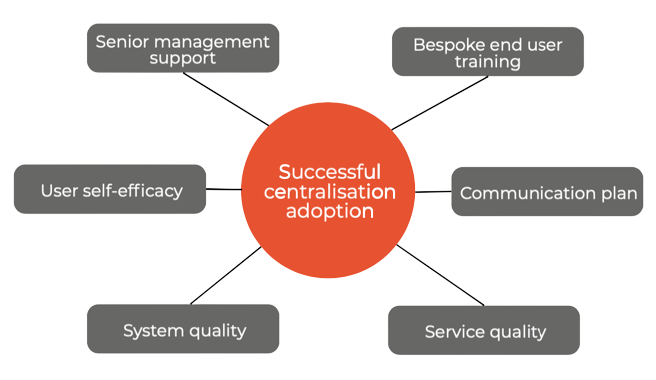 To understand more, define an adoption strategy or discuss a failing or transformation at risk, contact us for a no obligation discussion with our experts.
A guide to everything you need to know about transforming your organisation
Download the guide